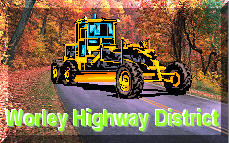 Welcome to Worley Highway District
WORLEY HIGHWAY DISTRICT (WHD) is a public entity responsible for the maintenance and construction of secondary roads in the south west portion of Kootenai County, located in Northern Idaho. There are 192.406 miles of roads in Worley Highway District, 0.479 miles unimproved, 4.235 miles of dirt, 98.647 miles of gravel and 89.045 miles of paved road. Worley Highway District encompasses 202.24 sq miles of land, 2010 estimated Census population of 8,607 and a taxable market value of $2,048,981,339. The District is administered by a three-member Board of Commissioners. Worley Highway District is divided into three sub-districts, and each sub-district is represented by an elected Commissioner.

WHD has created this site to provide information to the general public regarding the operations and activities of the Highway District.
ADMINISTRATIVE MEETING 2-22-2017 9:00 AM

PROJECTS/SUBDIVISIONS 3-8-2017 9:00 AM

ADMINISTRATIVE MEETING 3-29-2017 9:00 AM

OUR OFFICE WILL BE CLOSED FEBRUARY 20, 2017.

REGULAR HOURS WILL RESUME FEBRUARY 21, 2017.

PLEASE NOTE WINTER OFFICE HOURS:

MONDAY - FRIDAY 7:30 AM TO 3:30 PM

OCTOBER 3, 2016 THROUGH MARCH 31, 2017

Worley Highway District has committed to ensuring that all of the services and activities are administered fairly, without regard to race, color, national origin, gender, age, or disability. Worley Highway District will take reasonable steps to provide meaningful access to services for persons with limited English proficiency.

Thank you

WORLEY HIGHWAY DISTRICT MAP

12799 W. Ness Rd.

Worley, Idaho 83876

1-208-686-2015

Last updated 2/17/2017

This site will be updated on a regular basis. Please check back often.